Rutronik24: e-commerce in New Dimensions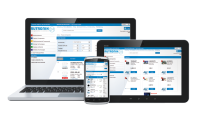 At rutronik24.com, Rutronik offers a modular online shop with more than one million articles spanning the entire spectrum of electronic components.
Continuously further developed and optimized functions and services make Rutronik24 the one-stop procurement and research resource for all developers and procurers.
The intelligent search algorithms and extensive parameterization of each individual component are unique and allow you to find the components you require quickly.
The comprehensive PCN database displays any PCNs directly while you are selecting the products in the shop.
In addition, the mass quotation tool allows you to convert your own parts lists (BOM) into a Rutronik24 article list via upload, which you can then use to order all the selected articles conveniently – at your latest personalized prices and terms of delivery of course.
In the password-protected procurement section, each customer can view his open and past orders including real-time tracking, his offers and contracts, article lists, buffer stocks, consignment warehouses, and traceability information.
The latest catalogs, sales lists, and a wide range of media are available to download.